Faro Airport Transfer Service (Coach, Minibus & Taxi)
We pride ourselves on the quality of our service & vehicles

With us your not left waiting!

All of our vehicles are highly maintened on a regular basis. Our passengers safety comes first. We carry baby seats & booster seats for children of all ages, as well as first aid kits.
All of our drivers are experienced and have an excellent knowledge of the Algarve.
We have a policy of one family / group per vehicle, we do NOT mix families / groups on a vehicle to maximise profits. We guarantee that you will be taken directly to your hotel or villa!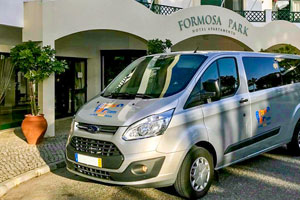 Private Taxi Transfer
Vehicle :

Estate car with A/C (upto 4 passengers)

Luggage Capacity :

3 to 4 suitcases, or 2 cases + 2 sets of golfclubs
Private Minibus Transfer
Vehicle :

Large minibus with A/C (upto 8 passengers)

Luggage Capacity :

8 suitcases + 8 golf sets, or 10 suitscases + wheelchair...etc
Private Coach Transfer
Vehicle :

Coach various sizes from 22 passengers to 51 passengers

Luggage Capacity :

1x large + 1x small case p/passenger, or 1x small case + 1x golfclubs p/passenger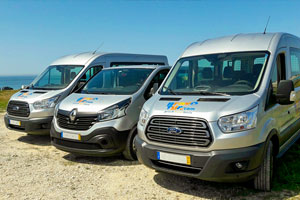 Extra charges :
After hours charge. Between 21:00hrs & 06:00hrs there is an additional charge of 20%, but only on the leg of the transfer that is effected, NOT on the total cost!
Free! :
Baby & booster seats can be supplied on the minbuses at no extra cost, but must be pre-booked. Should your flight be delayed, there is no waiting charge. There is no weekend or bank holiday suplament.
All toll charges are included, we always use the A22 toll road when travelling futher than Vilamoura!
Booking:
NO Booking fee
NO Pre-payment
NO Deposit required
NO Cancellation fees
Simply request a quote via our online form. Once you accept it, we forward you your voucher. Payment is made upon arrival. Simple, quick & efficient.
Please fill in the form below for a FREE no obligation quote.