Information about the Algarve Region
Portugal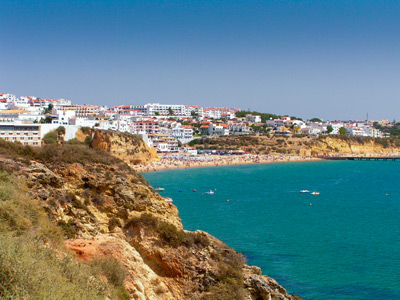 Portugal, which shares the Iberian Peninsula with Spain and Gibraltar and occupies about a fifth of it – is the most westerly part of Europe except for Ireland. It measures 560Km/347m from North to South and 220Km/136m at its widest part from East to West. It is a little more than twice the size of Switzerland but only half as big as the state of Oklahoma. It has no more than ten million inhabitants, about a quarter of them living in or near its three main towns Lisbon, Porto & Setúbal.
---
The Algarve region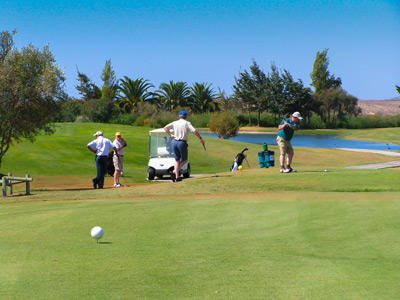 The Algarve region was completely unknown to most at the end of World War II. It owes its development to its climate, especially its warm winters, its beauty, and its incomparable beaches. It has 180Km/112m of coastline facing south and another 50Km/31m facing the Atlantic. Exotic birds migrate to spend the summer here – hoopoes, bee-eaters, golden orioles and many more that you would never see in the colder climates! There are Mediterranean-type flowers everywhere – oleanders, camellias, tamarisk, mimosa, geraniums as big as bushes and rhododendrons growing wild. There are also figs, sugar canes, carobs, orange trees, pomegranates, and prickly-pear cactus. There is blossom even in winter!
---
Albufeira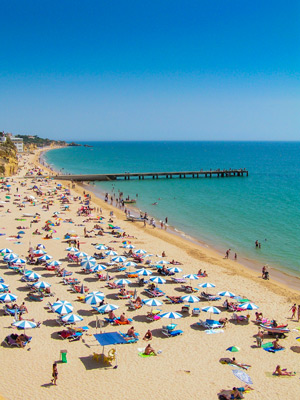 Albufeira in its history it was a thriving seaport and had its own castle that was later destroyed in the earthquake of 1755. Happily, most of the older parts of the town that survived have been carefully maintained. During the Moors occupation the town was to become an important trading port. In 1532 and in 1755 the place was badly hit by earthquakes, and in the later 227 people unluckily perished under the falling roof inside the parish church. During the "War of the Miguels" the town was besieged and set ablaze. The destroyed town consequently suffered a very long period of poverty and has only really now recovered with the boom of tourism.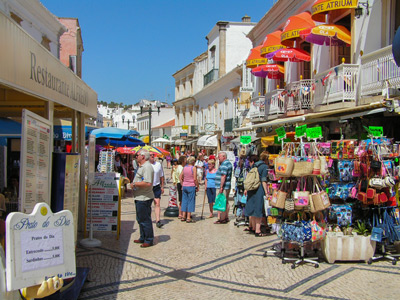 As a result of this boom in tourism, this once upon a time fishing village has expanded since the 1960s into a major holiday resort and now has over 12,000 permanent residents. The centre of the town changes its character after the sunsets. A plentiful collection of bars, restaurants and clubs start to fill-up with the tourist until they over spill into the narrow streets. There is a good selection of good beaches run both to the east and west from the town. Praia de Balaia, Praia de Castelo, Praia de Falésia, Praia de Galé, de Olhos d'Agua, Praia de Maria Luisa, and Praia de São Rafael, being the main ones. There is a small museum of 15th and 17th century ceramics and a Municipal art gallery that holds regular exhibitions during the season. A further addition to the town is a new Virtual Arqueológico Museum. The new Marina on the west side of the town now offers a different and attractive aspect to an already popular resort."
---
Carvoeiro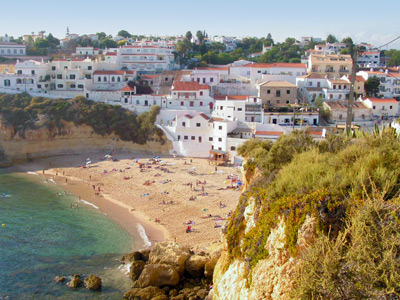 Carvoeiro was a very small intimate fishing village that has since grown from its modest origins. Then came the steady growth in tourism and the changes it brings. Today, Carvoeiro spreads to the east and west with a vast selection of villa with private pools, apartments and even a few good quality hotels. The village has three main high streets, with a vast choice of restaurants & shops, a few bars and just the one night club on the beach.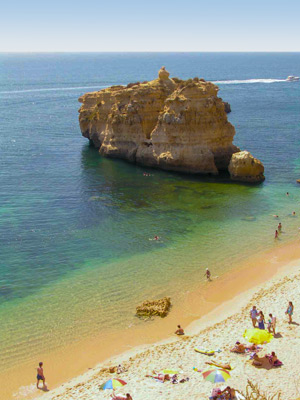 What keeps Carvoeiro so beautiful is that there are still old quaint small houses alongside the modern, and narrow cobble stone streets that no car could negotiate. What made this village so attractive to tourists, and still brings them back year after year are its many small coved beaches. Praia de Centianes, Praia de Carvalho, Praia de Benagil, Praia de Marinha and Praia da Albandeira.
An absolute must is a sunset walk along Algar Seco, watching the shadows crawl across the most breath taking rock formations!